Family Camp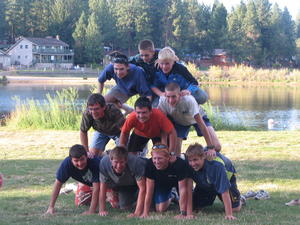 You also, like living stones, are being built into a spiritual house
F
irst OPC holds an annual camp on the east side of scenic Mt.Hood near Wamic, Oregon, about 30 miles south of The Dalles, where the sun shines as much as 340 days of the year. Campers of all ages look forward to this event.
Date and Location
F
amily Camp 2016 is scheduled for August 17 - 20 at
Camp Morrow
.
Activities
C
hristian Instruction, Fellowship, Singing, Good Food, Swimming, Boating, Water Slide, Biking, Miniature Golf, Archery, Horseshoes, Basketball, Volleyball, Softball, Hiking, Frisbee Golf, Skits, Games, the Great Annual Bananathon, and much more!
Accommodations
P
rimitive cabins (bring your own bedding), tent sites, primitive RV sites (no hook-ups), all on a first-come, first-served basis.
Speaker sessions
T
he highlight of the camp is a twice- daily session with a notable speaker on topics of interest to members of the Orthodox Presbyterian Church.
OPC pastor, Larry Wilson
, was our 2013 speaker on the topic of "God at Work". In 2014, native son
Mark Sumpter
spoke to us about education.
For 2015, we enjoyed the return of a camp favorite, author
Richard Hannula!
He wrote:
"Spiritual lessons from Church History" "For each of the five sessions [I plan to] select a Christian doctrine or virtue from Scripture and illustrate it in the life of a man and a woman from church history. I have written a book, scheduled to be published in the spring, on women through church history, so I have lots of examples of women to draw from as well as men... We would be touching on several periods of history from the early church through the 20th century as well as many lands"
First Orthodox Presbyterian Church — Portland, Oregon
Jack Smith, Pastor
Regular Schedule:
Address:
Sunday School: 9:15am
Sunday Morning: 10:30am
Sunday Evening: 6:00pm

8245 NE Fremont Street
Portland, Oregon 97220
503-253-0695