Family Camp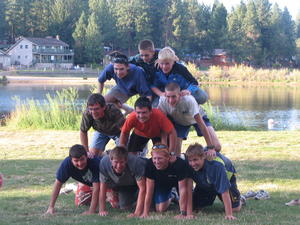 You also, like living stones, are being built into a spiritual house
F
irst OPC holds an annual camp on the east side of scenic Mt.Hood near Wamic, Oregon, about 30 miles south of The Dalles, in the sunny days of August. Campers of all ages look forward to this event.
Date and Location
F
amily Camp 2021 - August 18-21 at
Camp Morrow
.
Activities
C
hristian Instruction, Fellowship, Singing, Good Food, Swimming, Boating, Water Slide, Biking, Miniature Golf, Archery, Horseshoes, Basketball, Volleyball, Softball, Hiking, Frisbee Golf, Skits, Games, the Great Annual Bananathon, and much more!
Accommodations
P
rimitive cabins (bring your own bedding), tent sites, primitive RV sites (no hook-ups), all on a first-come, first-served basis.
Speaker sessions
T
he highlight of the camp is a twice- daily session with a notable speaker on topics of interest to members of the Orthodox Presbyterian Church. In 2019
John Shaw,
OPC General Secretary for the Committee on Home Missions and Church Extension spoke on "Christian Living in a Hostile World". In 2020 Bible Presbyterian pastor,
Len Pine
, Field Director of the Presbyterian Missionary Union currently serving in Bonner's Ferry, Idaho. The theme was
"Mountains of Faithfulness" -
the mountains of the Bible .
Family Camp Speaker 2021
This year our guest speaker was A. Craig Troxel, the Professor of Practical Theology at Westminster (California) and author of With All Your Heart: Orienting Your Mind, Desires, and Will toward Christ