Christianity Explored
The people of First Church invite you and anyone you want to bring along, to participate in an informal discussion of Christianity with a group of other interested people.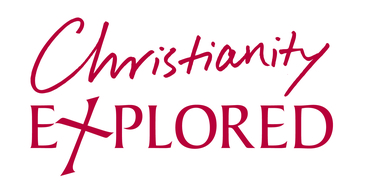 Christianity Explored is a study based on the Gospel of Mark in the New Testament of the Bible. The complete course is one evening per week for ten weeks. A study guide is provided to the participants, to aid in discussions prompted by the Christianity Explored video series by Rico Tice from All Souls Church in London, England. Rico's winsome presentation is a great ice-breaker.
Also helping to assure a relaxed and informal atmosphere is a meal that is provided at the start of the evening (6:30pm), so that you won't have to stop for something to eat after work. After dinner (7:00pm), we break into smaller groups for a preview discussion followed by the video for that week, and then a follow-up discussion. We finish promptly at 8:30. You are welcome to come for whatever parts interest you and leave at any time. There is no cost. We hope you will accept the meals and provided materials as a gift from us.
You don't need to know anything about the Bible.
You won't be asked to read aloud, pray or sing.
You can ask any questions you want!
This is not a church service. There is no singing, clapping, or even praying (except in giving thanks for the meal). You will not be asked to read out loud unless you request to. You won't be expected to tell us any more about yourself than you volunteer. We will not be collecting phone numbers or addresses, unless you ask to be notified of news about the group.
You may have no experience at all with Christians, the Bible, or Church. You may be a convinced atheist or adherent to another religion. On the other hand you may be a Sunday School teacher: the course is planned with all sorts of people in mind.
There are many contradictory things said in the world about who Jesus is, why he came, and what it means to follow him. We want to provide a way for you to sort out the truth, together with others in a friendly and relaxed environment; and as we are able, we hope to clear away misunderstandings that keep us apart from one another.
If "Christianity Explored" sounds like something that your church would like to do for your community, feel free to attend our meetings, call us with your questions, or check out the Christianity Explored Website.